In Febuary 2010, Islands Souvenirs launched a line of shirts "I Heart" line, originally as a Valentine's day campaign which focused on a less typical love — love of place. With Islands Souvenirs' new line of products, customers could personalize their love for Cebu by printing their names on their shirts and wear their heart on their sleeve — literally. Since then, the I

campaign has been a massive success thanks to the participation of various Cebuanos in the advocacy.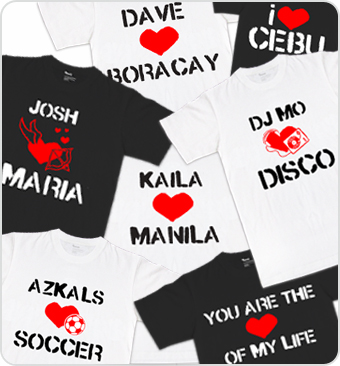 Personalities
Many true-blue Cebuanos immediately got on board with the idea of promoting love of place with their personalized I

Cebu shirts. Some of the esteemed personalities who joined Islands Souvenirs in the advocacy are former DOT Secretary Ace Durano, Kenneth Cobonpue, Gov. Gwen Garcia, Amparito Lhuillier, Papa Joe, and more.
Widespread
Islands Souvenirs has expanded the line to other key  destinations such as Davao, Bohol, Manila, Boracay, Vigan, Camsur, Baguio, and Palawan. The I

campaign has also transcended international boundaries as it has quickly become the favorite pasalubong to Filipinos living abroad.
Neon Collection
Islands Souvenirs' I

campaign continues to evolve from the time it was first launched. Islands Souvenirs has launched limited-edition double-customized shirts and hearticons. Now, the I

line is a more comprehensive collection spanning boardshorts, tank tops, and other accessories. Customers can now spread the

with Islands Souvenirs' bright colors from the I

Neon collection, following the latest color-blocking fashion trend.